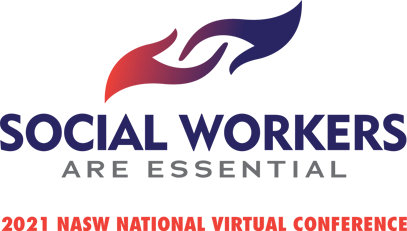 Day Three - Thursday, June 24, 2021
10:45 am - 11:00 am EDT
Welcome
Watch Session
Overview
---
Welcome

Mildred "Mit" Joyner, DPS, MSW, LCSW
President
National Association of Social Workers
Professor Emerita
West Chester University
PARTICIPANT ENGAGEMENT
Raffaele Vitelli, CAE
Vice President, Professional Education and Product Development
National Association of Social Workers
11:00 am - 12:30 pm EDT
Breakout Session - Improving Health Disparities in the NICU: A Focus on Cultural Competent Practices
Watch Session
Overview
---
1.5 Cross Cultural Credits
Presenter:
JaNeen Cross, DSW, MSW, MBA
Assistant Professor, Social Work
Howard University
The presentation will reveal findings from a qualitative study examining the bonding and attachment experience of NICU mothers. Participants will learn about the factors that contribute to disrupted attachment and bonding for NICU mothers. There are significant health disparities in maternal child health for women and infants of color. This presentation will identify the health disparities experienced by mothers and the cultural competent practices that improve biopsychosocial outcomes.
11:00 am - 12:30 pm EDT
Breakout Session - Unwanted Consensual Sex: Addressing the Hidden and Unspoken Education of Submission in Practice
Watch Session
Overview
---
1.5 Social Work Credits
Presenters:
Karie McGuire, DSW, LCSW, CHES
Research Scholar Member/Scholar
Global Association of Human Trafficking Scholars
Jamie Wasserman DSW, LCSW
Executive Director
The Consent Project
Consenting to sex is a complicated psychological, social, and political issue that transcends gender, sexuality, and privilege. The current research on consent has revealed that, many women, agree to have sex that they do not want. This program will educate the participants on the psychological and emotional impacts of non-consensual sex and provide tools for clinicians to use in dialogue with clients around uncomfortable sexual content.
11:00 am - 12:30 pm EDT
Breakout Session - Social Work's Role in Hate Crime and Domestic Terrorism Intervention and Prevention
Watch Session
Overview
---
1.5 Clinical Credits
Presenter:

James Marley, PhD, ACSW, LCSW
Associate Professor
Loyola University Chicago
Diverse communities confront hate crimes and domestic terrorism. Whether targeting ethnic/cultural groups, religious/spiritual groups, LGBTQI groups, or others, the violence can be difficult to comprehend. However, there is a developing focus on utilizing community-based and family-based interventions to help build resources and resilience to prevent such crimes from occurring. The profession of social work is uniquely positioned to play a key role in these prevention and intervention efforts.
12:30 pm - 12:45 pm EDT
Break
12:45 pm - 1:45 pm EDT
Plenary: Fostering Hope and Resilience During Challenging Times: Social Workers are Essential
Watch Session
Overview
---
1.0 Social Work Credits

Presenters:
Maria Baratta, PhD, LCSW
Private Practice
Anthony Estreet, PhD, MSW
Associate Professor
Morgan State University
Social workers have historically played a crucial role in fostering hope and healing during challenging times. Now more than ever the profession is essential to the mental health and well-being of individuals, families, and communities. Despite these challenging times, the profession has risen to the occasion to promote meaningful change. This session will address these factors and also preview the role of social workers in a post-COVID-19 world.
1:45 pm - 2:00 pm EDT
Break
2:00 pm - 3:30 pm EDT
Breakout Session - Whitney M. Young School of Social Work: A Century of Making a Difference in Race Conscious Practice
Watch Session
Overview
---
1.5 Social Work Credits
Presenter:
Dr. Alma J. Carten
Associate Professor (ret)
New York University
Silver School of Social Work
A historical overview of the first school of social work founded in a HBCU when blacks were banned from enrollment in predominately white schools of social work. The presentation is of interest to practitioners, educators and students who are committed to learning more about the contributions of black scholars, educators and activists who pioneered anti-racist approaches and the use of research to advance evidence-based models of race conscious theory and practice.
2:00 pm - 3:30 pm EDT
Breakout Session - The Impacts of Climate Change on Human Health
Watch Session
Overview
---
1.5 Social Work Credits
Presenter:
Michelle LeVere, MSW, LICSW
Clinical Director of Social Work & Director, Field Education
University of the District of Columbia
Climate change is triggering impacts across the US. Extreme weather events, changes in temperature and precipitation, floods, droughts and fires contribute to ecological disruptions. Physical, mental and community health are also impacted. The impacts on health are occurring now and will increase as conditions worsen. The impacts on human health will be discussed, with a focus on vulnerable populations, and social work's role in addressing this critically urgent issue.
2:00 pm - 3:30 pm EDT
Breakout Session - The Complex Care Core Competencies: Drawing from and Advancing Social Work Practice Within Interprofessional Teams Serving Individuals with Complex Health and Social Needs
Watch Session
Overview
---
1.5 Social Work Credits
Presenter:
Rebecca Koppel, MSW, MPH
Program Manager, Field Building & Resources
National Center for Complex & Social Needs
Robyn Golden, MA, LCSW, ACSW
AVP, Social Work and Community Health
Rush University Medical Center
Meghan Golden, DSW, LCSW
Director-SIU Survivor Recovery Center
Complex care is a growing field that seeks to improve health and well-being for people with complex health and social needs — those who have multiple chronic physical and behavioral health conditions combined with social barriers such as homelessness and unstable housing, food insecurity, lack of transportation, and more that are exacerbated by systemic problems such as racism and poverty. Social workers fill an essential role in complex care teams; they often bridge health and social goals by understanding the whole person in their environment. This presentation will describe the complex care core competencies, which capture the necessary knowledge, skills, and attitudes for frontline complex care providers across discipline, profession, and context. The competencies reflect an extensive research process and the diverse input of key stakeholders and experts, the broader complex care field, and a year-long iterative developmental process informed by 16 working group members, including several social workers and individuals with lived experience. The presentation will highlight how the complex care core competencies apply many of the values, ethics, and competencies of social workers to interprofessional complex care teams. This presentation will also discuss and provide examples of social workers applying the complex care competencies in a variety of practice settings.

3:30 pm - 3:45 pm EDT
Break
3:45 pm - 5:00 pm EDT
Closing Keynote & Closing Remarks/Adjournment
Watch Session
Overview
---
1.0 Continuing Education Credits
Keynote Presentation
Maria Hinojosa
Journalist
NPR
President and CEO
Futuro Media Group
CLOSING REMARKS/ADJOURNMENT
Angelo McClain, PhD, LICSW
Chief Executive Officer
National Association of Social Workers
| Access Date | Quiz Result | Score | Actions |
| --- | --- | --- | --- |