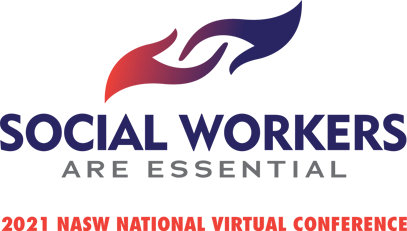 Day Two - Wednesday, June 23, 2021
10:45 am - 12:00 pm EDT
Welcome & Plenary: Social Policy: Priorities for Social Work Action
Watch Session
Overview
---
1.0 Macro Social Work Credits
Welcome
Mildred "Mit" Joyner, DPS, MSW, LCSW
President
National Association of Social Workers
Professor Emerita
West Chester University
PARTICIPANT ENGAGEMENT
Raffaele Vitelli, CAE
Vice President, Professional Education and Product Development
National Association of Social Workers
Plenary: Social Policy: Priorities for Social Work Action
Presenter:
Sarah Butts, MSW
Director of Public Policy
National Association of Social Workers
NASW is your voice with Congress, the administration, and regulators – and we want to share with you our priorities for action! Join us for this interactive session where you will learn about our 2021 Blueprint of Federal Social Policy Priorities which outlines an actionable advocacy agenda focused on the social work workforce and social justice goals of the profession. We will also discuss the interstate licensure compact for social work, a multi-year initiative to promote license portability and access to mental health services. We will share opportunities and strategies to strengthen the workforce and support our clients and society over the next four years, and how you can play a role in advancing these efforts!
12:00 pm - 12:15 pm EDT
Break
12:15 pm - 1:45 pm EDT
Breakout Session - Back2SchoolSocialWork: An NASW/SSWAA Joint National Communication
Watch Session
Overview
---
1.5 Social Work Credits
Presenters:
Michelle Alvarez, EdD, MSW
Director, Academic Strategy
Southern New Hampshire University
Greg Wright
Communications Director
National Association of Social Workers
Rebecca Oliver, MSSW
Executive Director
School Social Work Association of America
School Social Workers possess specialized skills and training, yet the vital role School Social Workers play goes unnoticed and is misunderstood. It is more important now than ever that School Social Workers are able to articulate their role, are intentional in spreading the word, and participate in a plan to educate others. In this session, NASW and SSWAA will describe the strategies they used to raise awareness about School Social Work through a joint national communication campaign.
12:15 pm - 1:45 pm EDT
Breakout Session - Repairing a Fractured Rainbow: How Formal Caregivers Resolve Conflicts for LGBT Residents & Staff
Watch Session
Overview
---
1.5 Cross Cultural Credits
Presenter:
Angela Perone, PhD, JD, MSW, MA
Executive Director, SAGE Metro Detroit
Numerous conflicts emerge for formal caregiving staff serving LGBT residents in nursing facilities (e.g. discrimination by residents, staff, and family; ensuring culturally responsive services). Recent cases and policies carving out religious exemptions for care create additional conflicts for staff serving LGBT residents. This presentation presents findings from a multi-method qualitative study of long-term care facility staff, including semi-structured interviews (n = 90) and eight months of participant and non-participant observation. Attendees will learn how formal caregivers understand and navigate conflicting rights for LGBT residents and staff in long-term care facilities and how to apply this to their social work practice.
12:15 pm - 1:45 pm EDT
Breakout Session - Helping the Huddled Masses: Mental Health Expert Witnesses in the Asylum Process
Watch Session
Overview
---
1.5 Social Work Credits
Presenter:
Roy Laird, PhD, LCSW-R
Clinical Social Worker
In the past 15 years, asylum adjudicators have come to rely more and more on expert testimony. Licensed clinical social workers with appropriate expertise and training can provide psychosocial summaries that help the Court to better understand the applicant, and can mean the difference between life and death. Dr. Laird will explain the adjudication process; clarify the role of the mental health affidavit; and how to get the proper training and support to participate in this critical process.
1:45 pm - 2:00 pm EDT
Break
2:00 pm - 3:00 pm EDT
Plenary: Ethics Are Essential: And it Just Got Real!
Watch Session
Overview
---
1.0 Ethics Credits
Presenter:
Dawn Hobdy, MSW, LICSW
Vice President
Ethics, Diversity, & Inclusion
National Association of Social Workers
2020 presented ethical challenges that many, in the social work profession, had not experienced nor imagined. Between the pandemic and social unrest, we were forced to do some reflecting, learning some hard truths about our past, acknowledging who we are today and deciding what it will mean to practice with high ethical values and principles moving forward. During this session, we will discuss why ethics got real in 2020 and why excellence in ethics is essential right now!
3:00 pm - 3:15 pm EDT
Break
3:15 pm - 4:45 pm EDT
Breakout Session - Police Social Work: The Profession's Contributions to Community Policing
Watch Session
Overview
---
1.5 Social Work Credits
Presenter:
George T. Patterson, PhD, ACSW, LCSW-R
Associate Professor
Silberman School of Social Work at Hunter College
Each year millions of individuals have law enforcement contact involving social problems such victimization, mental illness and interpersonal violence. Increasingly, law enforcement agencies divert individuals from justice system involvement, hire social workers, and collaborate with social service agencies. This session will define police social work roles and tasks, and explore the contributions of police social workers to community policing. Numerous collaboration models will be examined.
3:15 pm - 4:45 pm EDT
Breakout Session - Burnout, Vicarious Trauma, and Moral Injury: Prevention and Recovery
Watch Session
Overview
---
1.5 Social Work Credits
Presenter:
Heather Peck Dziewulski, DCSW, LCSW
Co-Founder & Director of Development
The Resilience Network, LLC.
This workshop is designed to go beyond a brief overview of Compassion Fatigue and focus on Prevention and Recovery that supports Social Workers in the development of "real life" strategies that are practical, hands on and proven to be effective in a variety of clinical settings. This workshop will present cutting edge research that promotes emotional wellness and a clear roadmap to address trauma exposure.
3:15 pm - 4:45 pm EDT
Breakout Session - How Do Learning Disabilities & ASD Go Undetected and How Can Social Workers Effectively Intervene?
Watch Session
Overview
---
1.5 Clinical Credits
Presenters:
Jennifer Agostino, DSW, LCSW
Clinical Social Worker
Sherri Wilson, DSW, LSW
Research Associate
Human Genetics Institute of New Jersey
When children have undetected neurodevelopmental disorders, their struggles often manifest as emotional and behavioral disturbances, with the underlying issue being overshadowed by their behavior. This presentation will address the overlooked signs of a child silently struggling with a learning disability or ASD, along with the challenges minority families face in receiving the appropriate services and support for which their child is legally eligible.
4:45 pm - 5:00 pm EDT
Break
5:00 pm - 6:15 pm EDT
Plenary: Supporting LGBTQAI+ Youth and Closing Remarks
Watch Session
Overview
---
1.0 Cross Cultural Credits
Presenters:
Jenny Andersen, LCSW
Prevention and Wellness Coordinator
Shavon Fulcher, MSW, LICSW
Private Practice
Have you ever wished you had a better grasp on the issues affecting LGBTQAI+ youth? This interactive presentation addresses cultural relevancy in working with LGBTQ youth, the specific presenting concerns affecting the LGBTQAI+ community, and inclusive interventions that can be implemented in your practice, whether micro, mezzo, or macro. You will leave with ideas to inform your work and expand your knowledge.
Closing Remarks
Angelo McClain, PhD, LICSW
Chief Executive Officer
National Association of Social Workers
| Access Date | Quiz Result | Score | Actions |
| --- | --- | --- | --- |